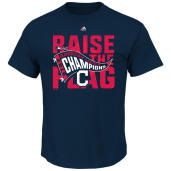 On Wednesday, the Indians polished off the Blue Jays in Game 5 of the ALCS and in doing so advanced to the World Series. That of course also means that the Jays' 2016 season is now over. Soon thereafter, the Cubs' bats awoke, and they evened the NLCS against the Dodgers at two games apiece. Given those events — and now that three teams are left standing — it is time for our daily look at each team's World Series chances.
Per SportsLine, here are each playoff team's updated chances to win the World Series (and LCS, where relevant), sorted by World Series championship chances:
Obviously, the Indians are on top, given that they are the first team to secure a spot in the Fall Classic. The implication, however, is that the SportsLine Projection System will favor the NL entrant in the World Series. As for the remainder of the NLCS, it is not exactly a coin-flip, but it is close.
Speaking of the NLCS, as of Thursday night one of the two teams will be heading to Chicago with a 3-2 advantage.
CBS Sports is a registered trademark of CBS Broadcasting Inc. Commissioner.com is a registered trademark of CBS Interactive Inc.