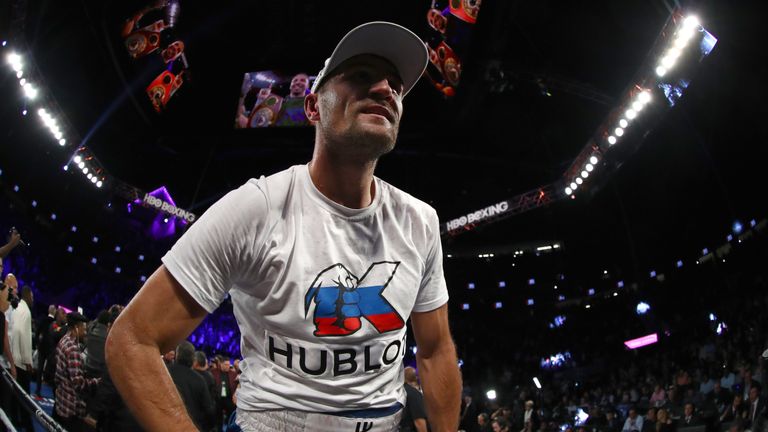 The Russian called for a rematch immediately after losing his IBF, WBA Super and WBO world titles to a close points decision at the T-Mobile Arena in Las Vegas.
Kovalev put Ward on the floor in the second round only to lose 114-113 on all three judges' scorecards
"It is the wrong decision," Kovalev said.
"I do not want to say my opinion, so the people are the witnesses are here and everybody saw what happened.
"I made the best shape for this fight since I was 11 years old. It was the [biggest] fight of all my life and really I am disappointed with the judges decision.
"He got a few rounds. I am agreeing with that, it is not the full fight and controlled all the rounds. I lost maybe three rounds in all the fight.
"Of course I want a rematch. And I will kick his a***. I just wanted to show boxing I am good boxer and fight rounds – not small rounds."
Kovalev was making his third appearance in Las Vegas in comparison to the winner, Ward, who was making his debut.
'Krusher' admitted he had no problem with the crowed backing the unbeaten Californian but made the point that judges, Burt A Clements, Glenn Trowbridge and John McKaie, are also American.
"I am the guest here in the USA… he's a local and all the judges were from the USA," he said.
"I agree they support a boxer but be honest, this is a sport – do not make it politics. I won this fight and everybody agreed."
Ward, who suffered a knockdown for the first time in 11 years, refused to discuss a rematch, saying he would never make a decision like that so soon after a fight.
The Californian did pay credit to Kovalev but believes the unanimous decision was the correct outcome.
"I have been a champion and was a champion before I came in here and I knew it was going to be a tough fight," he said.
"You never anticipate getting dropped; that was the first time in my career getting dropped but I was pleased with myself they way I responded.
"He did everything that I expected him too, including fade a little bit. He started to slow up. He never quit but he started to slow.